Anjuli Davies
10:59
Morning morning !
FRANCES COPPOLA
10:59
Morning everyone

Anjuli Davies
10:59
Frances, you've had a busy morning already
You're officially a talking head on Credit Suisse
FRANCES COPPOLA
11:00
I took over the BBC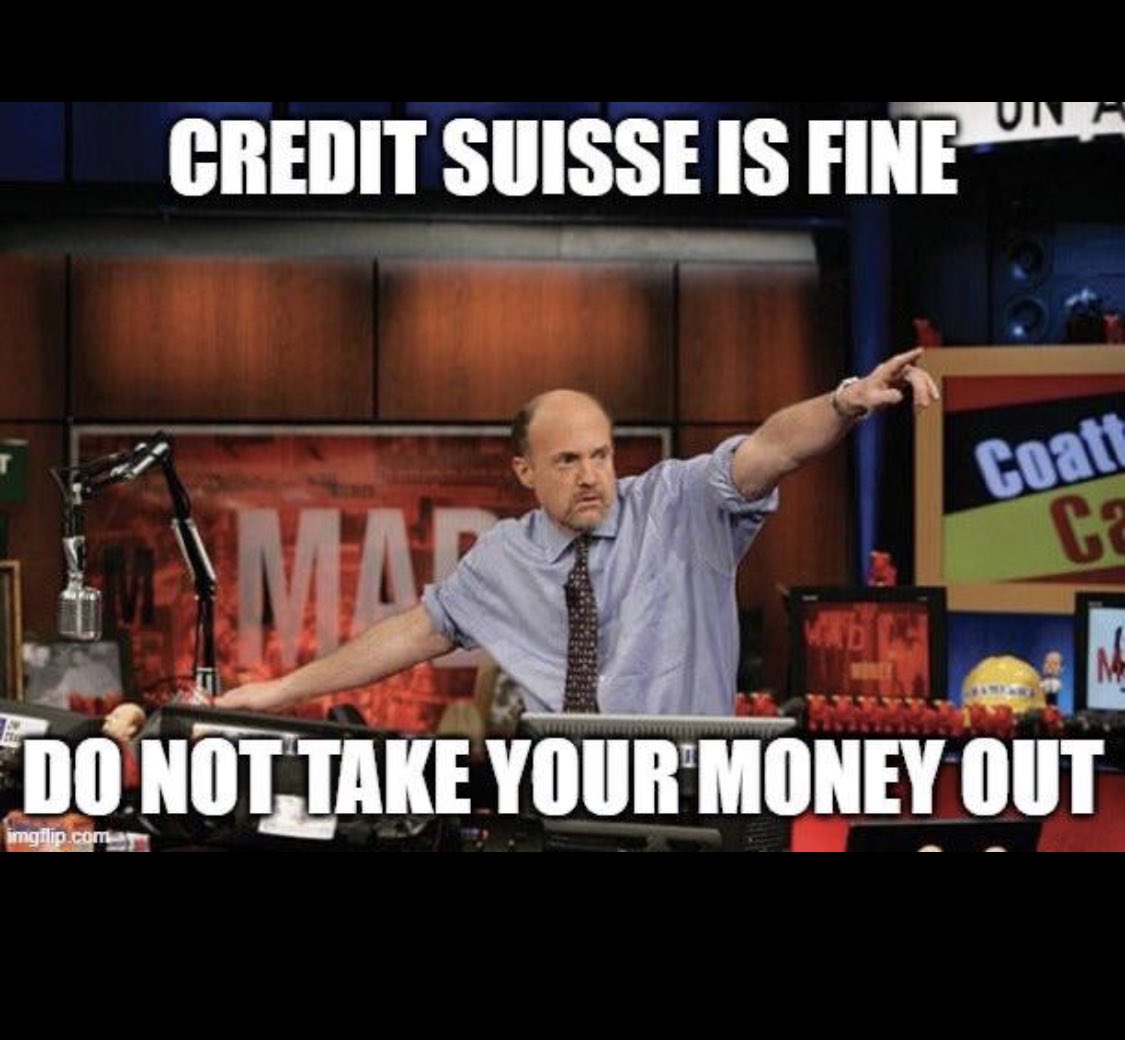 Anjuli Davies
11:00
Ah Jim Cramer …..
FRANCES COPPOLA
11:01
Credit Suisse outflows… CHF 61bn in the first quarter, following CHF 110bn in the last quarter of 2022

Anjuli Davies
11:01
And of course this
FRANCES COPPOLA
11:01
RIP Credit Suisse's investment bank

Anjuli Davies
11:02
Michael Klein weeping into his $20 million break–up fee
FRANCES COPPOLA
11:02
More worryingly it was also very nearly RIP Credit Suisse's wealth management division
Lost 9% of assets this quarter
Goodwill impairment of CHF 1.3bn, which is, er, all of it

Anjuli Davies
11:03
Morningstar reckon "it Could Have Been Worse" …discuss…
FRANCES COPPOLA
11:03
Yeah, it could have been worse… this is from the Risks section of the earnings release:

Anjuli Davies
11:03
UBS will be pleased that the higher margin assets it invests on behalf of its wealth management clients held up reasonably well. Outflows from the Swiss bank and the asset management business were also relatively contained.
Credit Suisse indicated that although flows have slowed, it has not turned around. Unsurprisingly Credit Suisse is guiding that it will remain loss making for the rest of the year. The CHF 300 million loss for the quarter in the good bank seems manageable especially if one considers that UBS intend to achieve CHF 8 billion of cost savings over time and wind down the problematic investment bank even further. Net interest margins suffered greatly as Credit Suisse had to access emergency liquidity and pay up for deposits. UBS will hope that its balance sheet strength will turn the margin erosion around quickly.
Morningstar Banking Expert, Johann Scholt
FRANCES COPPOLA
11:04
And this is from CS's risks section:
if the merger were not to be completed, our financial viability could be jeopardized, which would raise substantial doubt regarding our ability to continue as a going concern.
Worth remembering this merger is not yet finalised
The merger is subject to the satisfaction (or waiver, to the extent waivable, by UBS) of a number of conditions as set forth in the merger agreement, including, among others, (i) receipt of approval of the transaction by FINMA and granting by FINMA of arrangements separately agreed upon and such decisions and arrangements remaining in full force and effect and not having been amended, conditioned or revoked before completion, (ii) receipt of certain other regulatory approvals that are not subject to any condition, restriction or undertaking that would reasonably be capable of causing a material adverse effect on us, UBS, any of our or UBS's subsidiaries or other affiliates, or the combined group and (iii) receipt of certain governmental approvals that are not subject to any condition, restriction, obligation or undertaking that would result in any disposal of any UBS asset or business or that would reasonably be capable of causing a material adverse effect on us, UBS, any of our or UBS's subsidiaries or other affiliates, or the combined group.

Izabella Kaminska
12:05
Quick flyby from me on the fact that some Swiss-based investors are calling for an investigation in credit suisse. Here's what we published in the Politico Financial Services newsletter last week:
SWISS INVESTIGATION? The demise of Credit Suisse and its merger with UBS is still sending shockwaves through the Swiss political establishment — and the bondholders who are nursing unexpected losses. Thomas Borer, a former Swiss ambassador to Germany and now-lobbyist, told Morning FS in an emailed comment that there should be a parliamentary investigations committee to delve into what happened. The pressure for more detail on why the Swiss government forced losses onto bondholders rather than shareholders — reversing the usual hierarchy in a bank failure — comes after the government on Thursday reaffirmed that state guarantees underpinning the rushed takeover are binding, despite a symbolic Swiss parliament vote against.

The Swiss authorities' decision to ditch the resolution playbook prompted rebukes from EU regulators at the time, who reaffirmed shareholders would suffer first under European rules. "We know that the Swiss [finance] minister has said that she thought the framework wasn't usable," a senior European Commission official said this week. "But we're still waiting to hear actually from the Swiss authorities exactly, in what way, it was not usable."

Anjuli Davies
11:07
If the deal doesn't go through what are the ramifications
FRANCES COPPOLA
11:07
That's from the risks section
If the deal fails it will probably mean bankruptcy
So it had better not fail…

Anjuli Davies
11:07
And what would it mean for UBS?
FRANCES COPPOLA
11:08
Tbh if this deal fails UBS is the least of everyone's worries

Anjuli Davies
11:09
Does UBS need to announce more of a radical restructuring for CS – hive off its Swiss business for eg
FRANCES COPPOLA
11:09
It doesn't seem to want to do that. Wiping the investment bank is a definite though.
But both UBS and CS Swiss banks under the same roof, as it were, creates concentration for the Swiss banking industry that FINMA or the government might find unacceptable
So I wouldn't rule out UBS being forced to spin off CS's Swiss bank. Which is currently its only profitable division.
11:11Even if regulators don't force a spin-off, I think CS depositors might leave anyway, because the concentration would be a risk for them
Hearing that Julius Baer might be a beneficiary of deposit flight to avoid concentration risk

Anjuli Davies
11:12
I was talking to someone from JB the other night and they were saying something similar
FRANCES COPPOLA
11:14
Also the reported profit in these results is very dodgy indeed. It arises solely from the writedown of AT1s, which is now the subject of a legal challenge. Some AT1 holders have launched legal action against FINMA.

Anjuli Davies
11:14
seems like a classic accounting trick

Anjuli Davies
11:15
Credit Suisse AT1 Holders' Wipeout Challenged in Swiss Court
Wipeout came after lender was sold to Swiss rival UBS
Administrative court says four challenges have been filed
FRANCES COPPOLA
11:16
Bondholders have argued that they were treated unfairly, and pointed to a law that was changed the day before the notes were written off. The government move flipped the general convention of how to manage an insolvency event on its head, by hitting debt holders with losses before equity. That has thrown up a unique legal situation that's left everyone from institutional investors to wealthy bank clients looking at different ways to claw back their money.

Anjuli Davies
11:16
this story is far from over…
FRANCES COPPOLA
11:19
Even if the merger goes ahead, it leaves the Swiss government dangerously exposed. In the FT, Harold James says it's reminiscent of the last days of Creditanstahlt. I didn't know this, but two years before the disastrous collapse that triggered the Euuropean banking meltdown in 1931, Creditanstahlt – Austria's largest bank – was forced to take over Austria's second largest bank, Bodencreditanstahlt. https://www.ft.com/content/76dd2968-9e03-4151-bad9-62624e9fc779
large banks being forced to take over other large banks tends not to end well

Anjuli Davies
11:20
We've seen that movie before
FRANCES COPPOLA
11:21
especially in a country whose GDP is too small to support the failure of the ensuing megabank – which I think is probably the case for Switzerland. Iceland springs to mind.
11:22But what would be the alternatives to this merger?
Capital injection by the Swiss government?
11:23Presumably no-one would consider allowing it to file for bankruptcy Lehman-style.
@Helmholz, yes the AT1 writedown is a massive capital injection as is evident from the earnings release, but it could be overturned in the courts, as could the UBS indemnity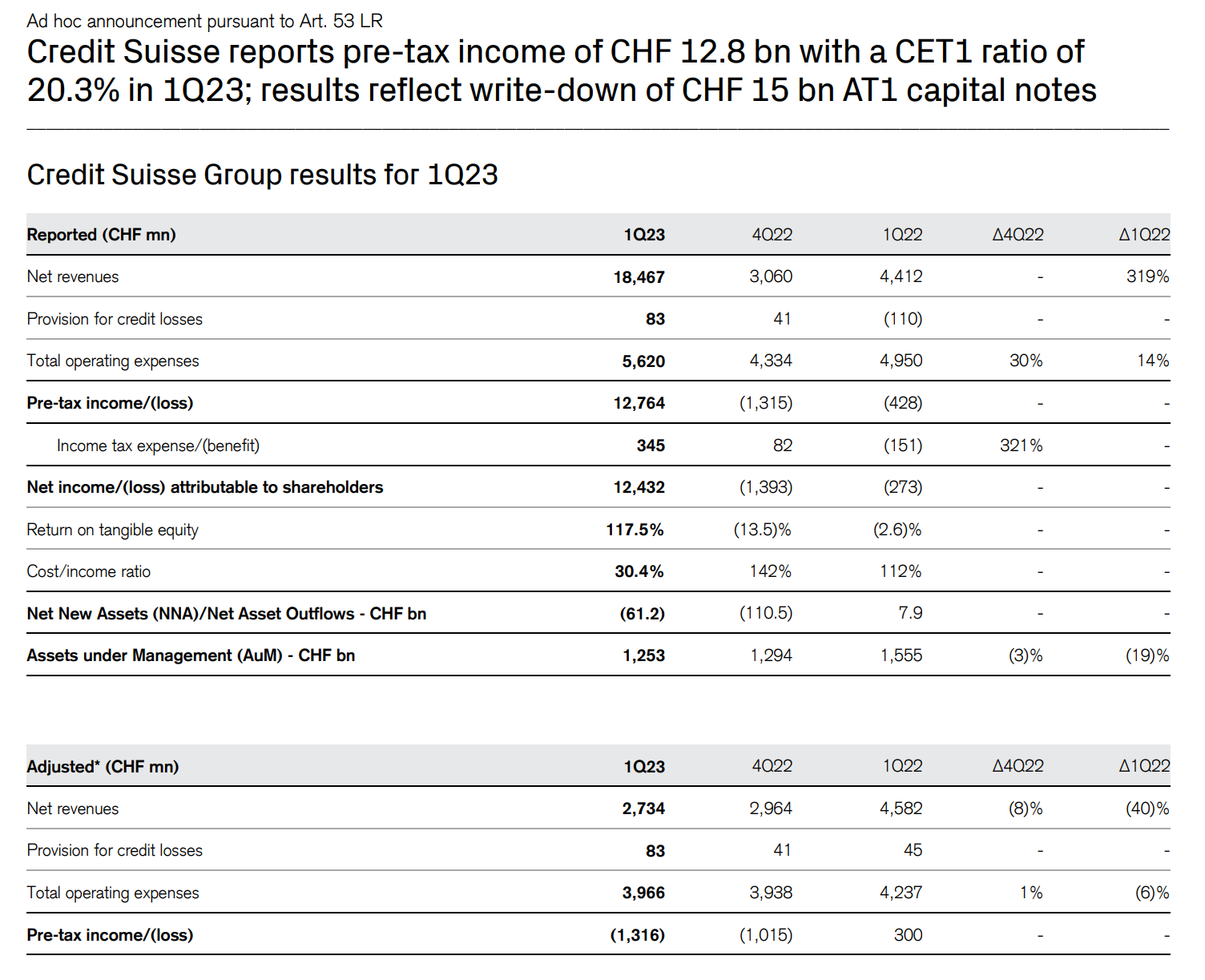 AT1 writedown turned a CHF 1.3bn loss into a CHF 12.8bn profit
also the SNB has provided loans which are also being questioned

Anjuli Davies
11:27
Peter Viktor Kunz, a professor of business law at the University of Bern, said it would be a disaster for FINMA and Switzerland's reputation as a financial centre if the regulator lost the case.

"The reputation of the country as a stable place for investors is on the line," he said.
Switzerland have a lot resting on this case
FRANCES COPPOLA
11:28
It's not going to be an easy ride
SNB liquidity support was enormous
The Swiss National Bank (SNB) granted Credit Suisse access to significant credit facilities that provide substantial liquidity support to the bank, a portion of which are supported by default guarantees provided by the Swiss government. As of March 31, 2023, the net amount of borrowings under these facilities amounted to CHF 108 bn after repayments of CHF 60 bn in the quarter, with further repayments of CHF 10 bn as of April 24, 2023.
The office of the attorney general said on Sunday that the prosecutor opened an investigation into the state-backed takeover of Credit Suisse by UBS Group last month, looking into potential breaches of the country's criminal law by government officials, regulators and executives at the two banks.
11:33UBS shareholders seem happy though – shares up 18.64 today.
UBS results tomorrow will be interesting.

Anjuli Davies
11:35
What else are we looking at today Frances?
LVMH becomes first European $500bn company
LVMH's market value has surpassed $500bn, becoming the first European company to reach that milestone, thanks to booming sales of luxury goods in China and a strengthening euro.

The achievement comes less than two weeks after LVMH joined the ranks of the world's 10 biggest companies, powered by a surge in first-quarter sales.

Rival Hermes International subsequently published its own strong numbers, reinforcing the view that China's reopening from pandemic lockdowns is fueling growth across the industry.

The company's rising value has swelled the wealth of the world's richest person, Bernard Arnault, who built LVMH into a global powerhouse through a series of acquisitions.

His fortune stands at almost $212 billion, according to the Bloomberg Billionaires Index.
FRANCES COPPOLA
11:38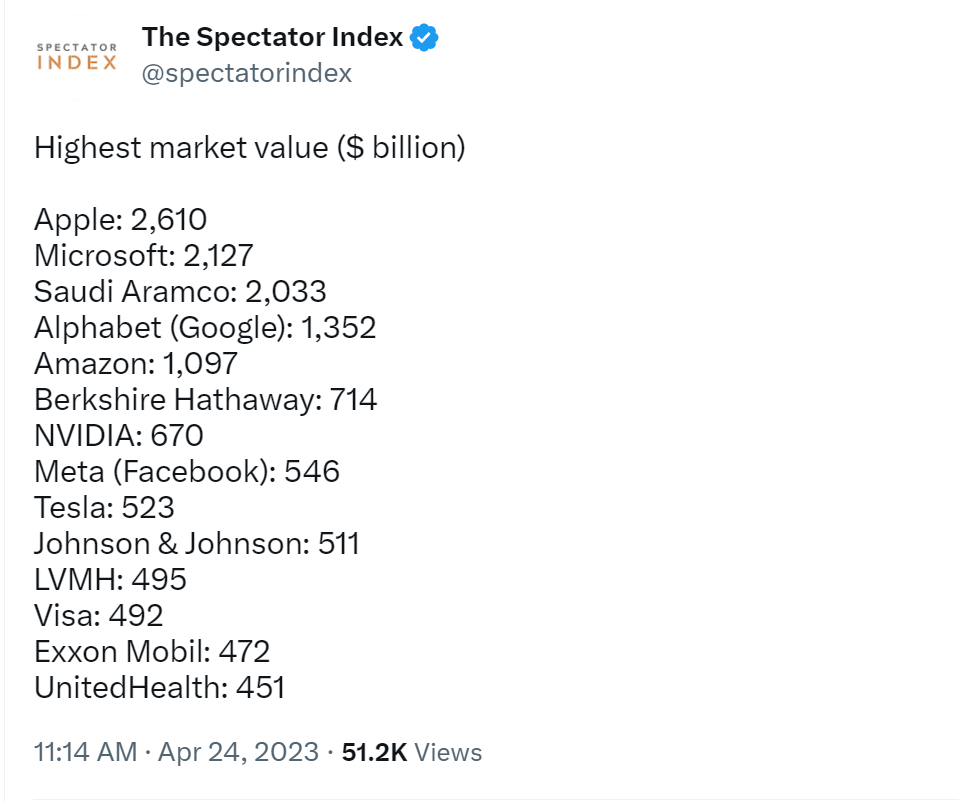 Speccie doesn't seem to have updated its index, but it doesn't make a difference.
But if Tesla keeps cutting prices it might lose its position

Anjuli Davies
11:39
Elon Musk in the news again
FRANCES COPPOLA
11:40
Ah yes, the blue tick fiasco

Anjuli Davies
11:40
A group of Tesla investors accusing the company of mismanagement
A group of Tesla investors have accused the company of mismanagement and are seeking a meeting with its board to discuss the performance of chief executive Elon Musk.

The 17 shareholders, who hold more than $1.5bn of Tesla stock, said Mr Musk is distracted by his commitments to other companies and must be reined in, according to an open letter they sent to chairman Robyn Denholm and director Ira Ehrenpreis on Friday.

They want the board to come up with a plan to do so and seek to remove directors too closely tied to the chief executive.

"There is collective frustration," said Ivan Frishberg, the chief sustainability officer for Amalgamated Bank, a union-owned bank that has 722,070 shares in Tesla across its various funds.

"Over the last year, it became quite clear that Tesla suffers from a governance problem."
Are you a blue tick Frances?
FRANCES COPPOLA
11:41
I was, until last week

Anjuli Davies
11:41
I can see the arguments for both sides

Izabella Kaminska
I am! Because as a dyslexic I need all the editing functionality I can get, and I'm prepared to pay for it 🙂
FRANCES COPPOLA
11:42
I object to paying for a status symbol. But if Elon introduced a sensible tiered subscription scheme, I would pay.

Anjuli Davies
11:44
I think if it was integral to my working life I might pay but its hard to pay for something that used to be free (bit like banking)
FRANCES COPPOLA
11:45
The problem is that the point of verification was to reassure ordinary Twitter users that the celeb they were following really was that celebrity and not an impersonator. That is now for the birds.

Anjuli Davies
11:45
And now it really is a free for all
FRANCES COPPOLA
11:45
We've already seen impersonators buying blue ticks – the personal finance expert Martin Lewis was impersonated by a paid blue tick holder using his name and image to sell dodgy crypto schemes

Anjuli Davies
11:46
Agree Darren, which makes it even harder to pay for the product
FRANCES COPPOLA
11:46
And now Elon has muddied the waters by giving away blue ticks to celebs who haven't asked for them and don't want them
Which is quite possibly illegal in several countries

Anjuli Davies
11:46
I think it's become totally confused
FRANCES COPPOLA
11:47
I wonder what he's going to do to dig himself out of this hole.
11:48I think the best thing to do now is kill the blue tick for paid subscribers. You don't need a badge saying "I'm paying Elon for better reach and additional features", you just want the reach and the features.
He's already halfway there with his proposal to allow people to hide the blue tick.
11:50Can we talk about Bed Bath and Beyond? Yesterday it filed for Chapter 11 bankruptcy

Anjuli Davies
11:50
Yes, lets
FRANCES COPPOLA
11:51
To facilitate this process, the Company has received a commitment of approximately $240 million in debtor-in-possession financing ("DIP") from Sixth Street Specialty Lending, Inc. Following court approval, the Company expects this financing to provide the necessary liquidity to support operations during the Chapter 11 process.

The Company's 360 Bed Bath & Beyond and 120 buybuy BABY stores and websites will remain open and continue serving customers as the Company begins its efforts to effectuate the closure of its retail locations. Through the filing of customary motions with the Court, the Company intends to uphold its commitments to customers, employees, and partners, including continued payment of employee wages and benefits, maintaining customer programs, and honoring obligations to critical vendors.
Fire sale of assets and gradual closure of the stores.

Anjuli Davies
11:52
What went wrong?
FRANCES COPPOLA
11:52
It has $5.2bn of debts on $4.4bn of assets
Largest creditor is BNY Mellon – owed over $1bn
Seems to be another company that has failed to keep up with the growth of online shopping

Anjuli Davies
11:54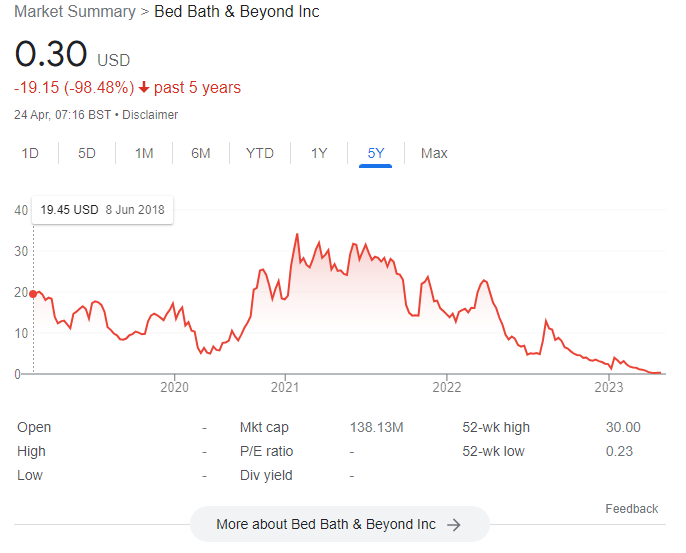 FRANCES COPPOLA
11:55
It has had a few problems in the past year – suicide of its CFO, ousting of its CEO, and a campaign by an activist investor
but it really needed to change direction long ago. Left it too late. Add it to the same pile as Maplin and Toys R Us.
but this really isn't a good time to sell a distressed retail conglomerate
with heaps of debt and lots of expensive stores
We're almost at an end… anything else we need to talk about, Anjuli?

Anjuli Davies
12:01
Think we've covered the main action for today
Thanks for another great session Frances
FRANCES COPPOLA
12:01
It's been fun! Bye for now and see you all soon.